Twenty View Farms is an Agri-Service company helping local farms maximize their yield. We do this through careful crop planning, planting, monitoring, and harvesting, all using the most advanced equipment to get the job done right.

At Twenty View Farms, we believe your success begins with preparation. Every field is different, so we take the time to help you understand how you can maximize your lands yield potential this year, and the years ahead.
Services:
Grain targets
Crop budgeting
Tillage options
Variable rate application mapping
Soil sampling
Crop selection

This is where your plans (and plants) come to life. Whether you are growing alfalfa, corn, wheat, or soybeans, as a Pioneer® seed representative, we give you access to the highest quality seeds and service. 
Services:
Pioneer® Seeds
In season seed delivery (totes, bags or bulk)
Custom crop planting

Soybeans planting (planter or air drill options)
Corn planting with dry fertilizer
Wheat planting with liquid fertilizer

Custom tillage
Bulk fertilizer

Every year brings farmers different challenges, from unpredictable weather to insects and disease. We can't predict what each year will bring, but we can be pro-active in identifying and solving any potential issues before they become costly problems
Services:
Regular crop scouting
Agronomy consulting
Chemical retail
Weed, insect and fungus control
Soil testing
Fertilizer & lime application 

Spinner box application
Y-dropping 28% on corn

Harvest season is the most rewarding time of the year for farmers. Twenty View Farms can help you reap the rewards of your hard labour by properly harvesting your crops at the optimal time, and managing them thereafter. 

Services:
Custom combining

Conventional or rotary
4 and 6 row corn harvesting 
Spread, chop, or windrow

Grain drying
Crop transportation
Grain storage

You work hard to grow your crop all season, but getting the most money for your crops can be time-consuming and requires a lot of experience. Let us do the heavy-lifting. We actively monitor the commodity markets for you so you can get the most money for your crops. 
Services:
Commodity market monitoring
Market reporting
Forward contracting
Cash sales
Awesome people to work with, always communicating well and they are focused on customer satisfaction. They have a great mission on customer care and education.
— Andrew Hordyk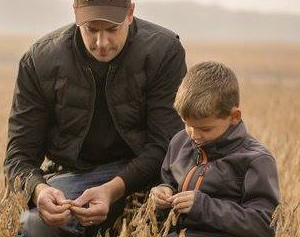 "The miracle of growing is new every year and it makes our work a privilege each day."
There's something just plain remarkable about agriculture. It's not the early mornings with the crisp pre-dawn air – though that's up near the top of the list for sure. Instead, it has something to do with the faithful act of putting seeds in the ground and waiting for them to do what they do.

No doubt, there is much we can do to enhance that process, but we can't do the seed's job. It's amazing when you think about it. The miracle of growing is new every year and it makes our work a privilege each day.

At Twenty View Farms, we get to indulge our passion by partnering with local Ontario farms to maximize crop production. No matter what part of the process we're in, or whether we handle the whole thing, our mission is to get the most out of every acre. 
Our process starts with advice using science and experience to choose the right crops for the right acres. For those who need it, we can take care of everything: preparing, planting, fertilizing and harvesting the entire crop using our advanced equipment and experienced hands. We can even market your crop, and manage risk by contracting ahead of time, and in season. In a time when more is being asked from farmers, Twenty View Farms can help you glean the greatest value from every acre.
And so it comes full circle. From the miracle of growth, to turning a profit, to a healthy farm where we can do it all over again. It's amazing we get to do this for a living. We love it, and we take it seriously. Twenty View Farms — for when your crops mean business.
Join over 100 farms in the Greater Niagara Region
and find out how we can help you get the most out of your land.